Open Enrollment Forcible Entry Training - 10/3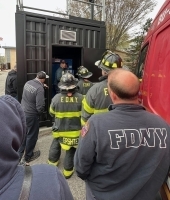 At our West Babylon facility, we perform an in-depth hands-on forcible entry class covering all aspects of single person and 2-person conventional forcible entry using an ax, halligan and Hydra- Ram.
All students should be appropriately dressed for forcible entry training. Must bring work/fire gloves and proper footwear. We will provide eye and hearing protection. Bringing a Helmet is encouraged, and we can also provide head protection gear if needed.
Because of insurance we require all students to be 18+.
All students will receive a hands-on 2 hour training course, a Firehouse Innovations T-Shirt, and an Aluminum Metal Chock. Please include your shirt size during registration.
A course certificate will be provided after the completion of the class.
Please arrive 15 minutes before the start of the event.